Hevingham St. Mary the Virgin and St. Botolph's Church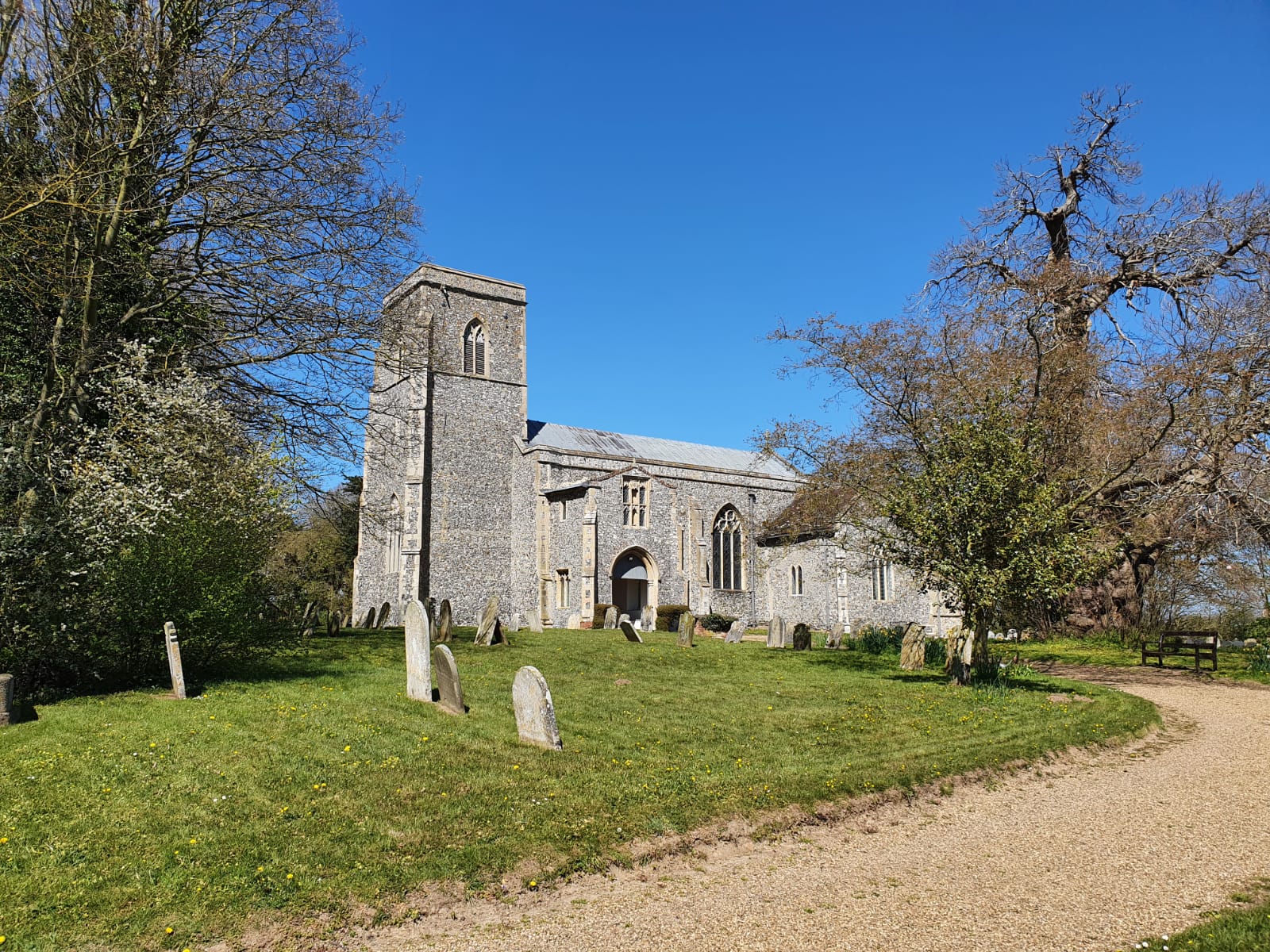 St Mary the Virgin and St Botolph: Hevingham
Church History
The village is documented in the Domesday Book where it is recorded as "Heuincham", a manor where one freeman, a priest, is recorded as holding 40 acres in alms for the King". William the Conqueror confirmed the priest's holding on the strength of his promise that he would sing three masses every week for Duke William's soul and the souls of his relations. The priest subsequently bequeathed his holding to the Bishop of Norwich and all successor bishops, In 1250 the manor passed to the then Bishop of Norwich, Walter de Suffield, who built there a grand moated palace in which, over the years, many other bishops resided. That manor appointed the Rector.

St Mary the Virgin and St Boltoph's church was mainly built in the 14th century but parts of the church may date back to the Norman period. Built of flint with stone dressing and a mixture of lead, tile and slate roofs, it is situated one mile north of the village centre, dedicated to St Botolph the patron saint of wayfarers. The old rectory built in 1788 for the Reverend J. Alderson, is now a care home.

The 14th century nave with its particularly beautiful period windows had trancepts built on the north and south sides in the 15th century. The nothern trancept contained a chapel dedicated to St. John the Baptist and the chapel in the south trancept dedicated to St. Mary the Virgin. Only the south trancept remains, as the northern trancept was demolished in 1594, and the materials used to maintain Rippon Hall, a nearby manor house. The outline of its archway is still visible on the north wall of the nave.

The chancel although looking of early english style is actually a Victorian rebuild, and its windows, installed at that time, are simply Gothic Revival.

There is a massive two-stage tower at the western end, with buttresses at the outer corners having a five stepped design; the parapet is plain. The lower part of the tower has only a single window. The tower was built to send the sound of its five bells across the fields to the village, a mile away. The bells were re-hung in 1902.

The porch on the south side is outstanding, above which is a parvaise, a room entered by a turret stair from inside the nave. Parvises are rarely found but there is another only a few miles away at St Mary's Church, Martham and this bears a very similar window with niches.The church bears much evidence of Reformation and/or Puritan attack with the result that the niches are now unoccupied. During the Ciivil War,both the porch and parvais were use as ammunition stores. Today there is no floor to the parvais.

There is a perpendicular style window with two niches for statues of saints.

The doorway leading into the church has an attractive hood moulding with decorative dark stone worked into the spandrels.
---